Bride's Guide to Gorgeous Wedding Photos: Reception
---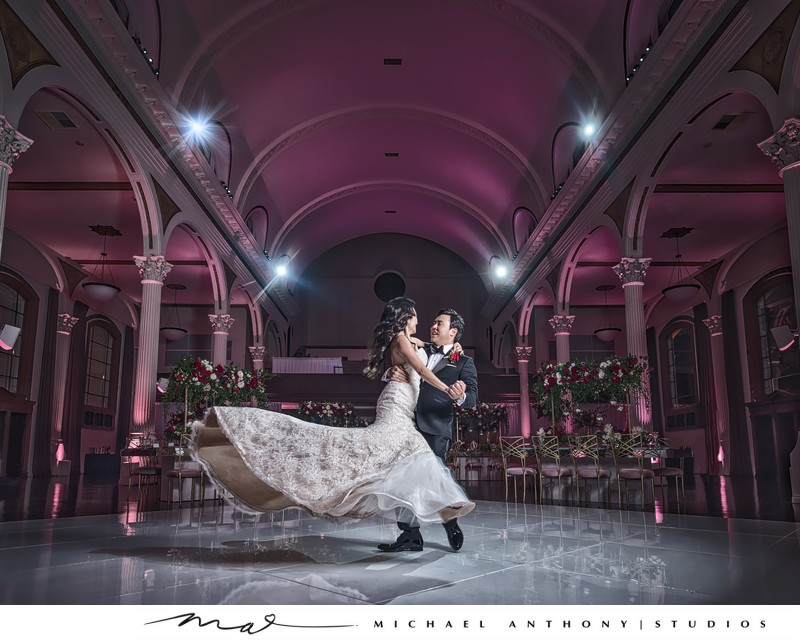 A Wedding Reception Photo at Vibiana in Downtown Los AngelesLighting is the biggest challenge of wedding reception photography. Therefore, if you want the pictures of this part of your wedding celebration to be beautiful, you will need to hire a photographer who knows how to use lighting equipment properly.
Pay special attention to the reception photos in the portfolios you study when looking for a photographer. Note whether the pictures are from indoor or outdoor receptions. You will need to hire a specialist who has experience in shooting your particular type of venue and can offer evidence to prove his or her skills in this.
Equipment Used for Wedding Reception Photography
The Vibiana Cathedral is a beautiful Los Angeles Wedding Venue
Nowadays, a good photographer can take great shots in any environment as there is equipment to counter almost every challenge presented by nature and lighting. A flash and a diffuser are two of the most important tools for a wedding reception shoot.
The flash allows to even out the lighting and take a good shot even in a dim room. Professionals use flashes with varied intensity to adjust to different surroundings perfectly. Diffusers are used to spread the light from the flash evenly and make it appear softer.
A great flash+diffuser trick that can be used for creating a few great shots is aiming the flash towards the ceiling. This way, the light will be concentrated away from the subjects and won't create an unappealing "blow up" that highlights the subjects too much. This trick works exceptionally well at outdoor receptions when the "ceiling" is a white tent.
Another important tool used by photographers is a handheld video light. This piece of equipment is carried by the photographer's aid and the light is aimed towards the ground. The main purpose of this light is not so much to illuminate as help the camera focus. This trick is important for outdoors receptions that often turn pitch black, even with some lights installed outside. The beauty of the starry sky in this case is remarkable and definitely helps enhance the party mood. However, photography-wise, this setting will be a great challenge.
Look for a photographer who believes in being ready for everything and carries the equipment that can come in handy in any situation. This way, you will be sure that you will get great shots regardless of the circumstances. Unfortunately, sometimes exploring the venue in advance is not enough as some unforeseen problems may ruin the lighting scheme your photographer plans to use. A really good specialist will be ready for such a mishap and have several backup plans in place.
Find a Photographer Who Isn't Afraid to Join the Action
Bride and her bridesmaids partying at Newhall Mansion in Piru
The wedding reception is a wild party, and to make truly remarkable photos of this celebration, the photographer needs to be on the "inside" of this party. Otherwise, the pictures might look like they've been taken by a stalker who is intruding on a private celebration.
The only way to determine whether a photographer will be able to assume the necessary role and get into the middle of the festivities to take some great shots is studying the master's portfolio carefully. Assess the pictures with a critical eye and decide whether you want your own reception photos to look similar.
The matter of the photographer's personality also plays an important part here, because you and your guests need to be comfortable around this person to pose for nice natural shots. Never hire a photographer without an interview that will help you see if your personalities are compatible.
Don't forget that to "join the action" in the most efficient manner, the photographer must be aware of what to expect. So, be sure to discuss your plans for the reception and tell the photographer what kinds of shots you want to see most. The professional will have some ideas, but it's your day and your vision takes priority. Just be sure to plan these things in advance to ensure that everything goes smoothly during the most romantic day of your life.
Choose Uplighting for the Room
A couple posing in front of the alter during their wedding reception at Vibiana
There will be no avoiding lighting challenges when photographing the reception, but you can make the task easier on your photographer and ensure a higher quality of the shots by pre-arranging quality uplighting in the reception hall.
This is a matter that will need to be handled by an experienced professional, so be sure to involve your photographer in the arrangements. The professional will need to install some lighting equipment in advance to create favorable conditions for the shoot without disrupting the flow of the celebration.
Los Angeles Wedding Photographer Michael Anthony Photography , 26007 Huntington Lane #10, Santa Clarita, CA 91355 | 310-750-0886 - Privacy Policy - Terms of Use