Fairmont Chateau Lake Louise
Scroll Down for Photos
---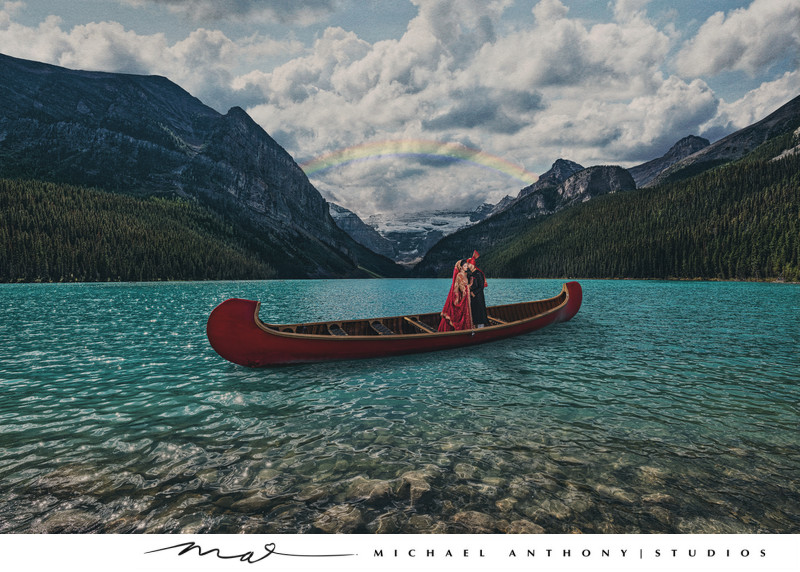 From snowy mountains, to a beautiful sparkling lake, Fairmont Chateau Lake Louise uses its gorgeous environment to its advantage. The gorgeous snowy scenery offers a beautiful backdrop that makes for a magical location for your destination wedding in Canada.
Fairmont Chateau Lake Louise makes planning an elegant and extravagant event easy. Their dedicated staff will make sure planning goes smoothly and you're able to have your dream wedding. The gourmet cuisine will ensure a fantastic dining experience.
But what really sets Fairmont Chateau Lake Louise apart from other wedding venues, is the wonderful array of indoor and outdoor ceremony spaces and reception halls. Each location offers a gorgeous backdrop for your celebration, and will make for beautiful masterpieces for your wedding photos. These spaces include:
The Victoria Ballroom, which is an iconic meeting space with a beautifully refined atmosphere.
The Lakeview Terrace is a breathtaking outdoor venue with a wonderful view of the Victoria Glacier. The 2,400-square-feet terrace offers a view of Lake Louise.
The Victoria Terrace is the perfect setting for a private outdoor wedding ceremony.
The Mount Temple Ballroom is perfect for larger events. It's the Chateau's largest ballroom, sitting at 8856-square-feet. The ballroom features separate drop-down screens, A/V equipment, and an elegant decor.
Plan your wedding at the Fairmont Chateau Lake Louise website.
About Fairmont Chateau Lake Louise
The Fairmont Chateau Lake Louise is located on the eastern shore of Lake Louise, near Baniff, Alberta. The original hotel was developed at the turn of the 20th century by the Canadian Pacific Railway. It was originally designed as a summer hotel, but became the snowy wonderland it is today in 1982. The Fairmont Chateau Lake Louise now functions as a ski resort and a perfect wedding venue for those who love the winter.
Parking
Fairmont Chateau Lake Louise provides parking for guests.
Capacity
Maximum capacity can vary depending on the chosen venues. The Mount Temple Ballroom is able to accommodate up to 750 guests. The Victoria Ballroom can hold up to 400 guests.
Fairmont Chateau Lake Louise provides an up-to-date capacity chart on their website.
Catering & Included Items
Walt Disney Concert Hall is an all-inclusive venue that provides:
Ceremony set-up
Chairs, tables, etc.
Catering
Fairmont Chateau Lake Louise offers banquet style catering. You can create a custom menu to ensure it suits your tastes, as well as your guests.
Pricing
Get a direct quote from Fairmont Chateau Lake Louise.
Permits
American photographers are required to get a permit to travel to Canada for work, this is an easy process, but make sure you give your photographer ample notice to get their visa.
---
---
Los Angeles Wedding Photographer Michael Anthony Photography , 26007 Huntington Lane #10, Santa Clarita, CA 91355 | 310-750-0886 - Privacy Policy - Terms of Use