Los Angeles Wedding Venues
Californians pride themselves on the state's amazing beaches, beautiful mountains, and temperate weather. Angelenos have it even better, if you add the amazing skylines, as well as so many some incredible wedding venues to the mix. The mild weather, gorgeous city views, lush golf courses, and watercolor sunsets make LA an ideal wedding destination, and with so many venues to choose from, a bride has all she needs right here.
As wedding photographers, we've photographed hundreds of wedding venues across the country and around the globe, but we're always drawn to the unique architecture and views in our hometown of Los Angeles. We've been lucky enough to work with brides in almost every spot in LA, and we've compiled a list of our favorite venues for our brides-to-be. As you start searching for your venue, it's important to decide what type of location you're drawn to most. Whether it be a beach-side resort, garden terrace, or hotel banquet. All of these spots have unique benefits, and we're going to let you in on some of those here.
---
Bel Air Bay Club
Bel Air Bay Club is a beautiful wedding venue. Overlooking the Pacific Ocean, it hosts beautiful views of the Malibu coast that are a dream to look at. The picturesque location is surrounded by lush beach-side greenery with stunning flowers, swaying palm trees and sand. A lot of couples consider it to be the perfect place for their wedding.
The venue is built on a 1920's era mansion that includes a collection of eight suites each with its own unique theme, which makes the venue even more popular since it accommodates attendees coming from out-of-state.
Bel Air Bay Club is one of the most popular wedding venues in Los Angeles, and that is because it is also a historic landmark. If you go to the property today, it will be easy to imagine how beautiful this place must have looked when it was built back in the 1920's.
With its unique architecture, elegant decor and intricate details, Bel Air Bay Club has hosted many memorable weddings over the years. Frequented by celebrities, this venue has hosted many different types of events over the years.
The venue can host up to 220 guests. Unsurprisingly, the prices are not inexpensive for the stunning views that it offers. The features ample parking and it's iconic Santa Monica location is the perfect place for anyone looking for a beach wedding venue in LA.
---
Carondelet House Weddings
Located in downtown Los Angeles, the Carondelet House is influenced by the charm of an Italian villa, with its candlelit ceremony hall providing a classic venue for an intimate wedding. If you are looking for Los Angeles wedding venues that have a brick facade — a backdrop perfect for daytime or evening wedding portraits — the Carondelet House is a great choice.
Since 1928, this private residence has served as a venue of countless stylish Los Angeles weddings With its 7600 square feet hall and two courtyards the venue is a frequent feature in a number of publications. Featuring hardwood floors, exposed indoor and outdoor bricks, and a bridal suite, this gatsby-esque house with its elegant archways and front foyer make a perfect wedding venue for couples with delicate tastes
Capacity: The venue can hold 150 people sitting down up to a maximum of 300 people.
Parking: Nine hundred parking spaces are available just a short walk from the venue
---
Cathedral of Our Lady of the Angels
Combine tradition, culture, and history in a wedding set at the Cathedral of Our Lady of Angels in downtown Los Angeles. Four major streets in Los Angeles lead to this massive 58,000 square feet Los Angeles Cathedral: Hill Street, Hollywood Freeway, Temple Street, and Grand Avenue
The second largest Catholic cathedral in the U.S. is the mother church of the Archdiocese of Los Angeles, and is home to the tilma of Our Lady of Guadalupe and to the relics of Saint Vibiana. Since its opening in 2002, architect Rafael Moneo's unique postmodern design, with its modern-deconstructivist elements, continues to draw the attention of exceptional couples who are looking for distinct Los Angeles wedding venues to match their personalities.
Capacity: With a 333 feet long aisle, this church can accommodate more than 3,000 wedding attendees.
Parking: Church parking is located close to the mausoleum and to the gift shop, while premium parking facilities are provided at 555 West Temple Street.
---
Calamigos Ranch (Malibu)
Calamigos Ranch is a beautiful place for your wedding. It is located in Malibu along the famed Mulholland Drive in Los Angeles, California. The location has 17 acres of beautiful landscape which includes several different types of wooded forest areas that are very nice for outdoor weddings .
Calamigos was originally built as an exclusive getaway from Hollywood for workers from Metro-Goldwyn-Mayer Studios , hence its name " Cala mi gos" which means " my home away from home." Although it is no longer owned by MGM, Calamigos still offers a unique and rustic feeling with various attractions on its grounds including swimming pools, stables, more 100 years worth of history to use as a backdrop for beautiful photos.
Calamigos has a host of different venues for brides to get married. These vary in size and capacity. The venue itself does have a consistent look. Brides that are looking for a forest or woodsy vibe will love this venue, as it gives a very ethereal or enchanted garden aesthetic to brides hosting their wedding here.
The venues that Calamigos offers are as follows:
The Birchwood Room
The Redwood Room
The Oak Room
The Pavilion at North Point
Capacity: Calamigos can accommodate between 85-400 guests, however each venue has specific capacity requirements
Parking: Parking at Calamigos is easy, with valet service that can accommodate all of your guests and vendors.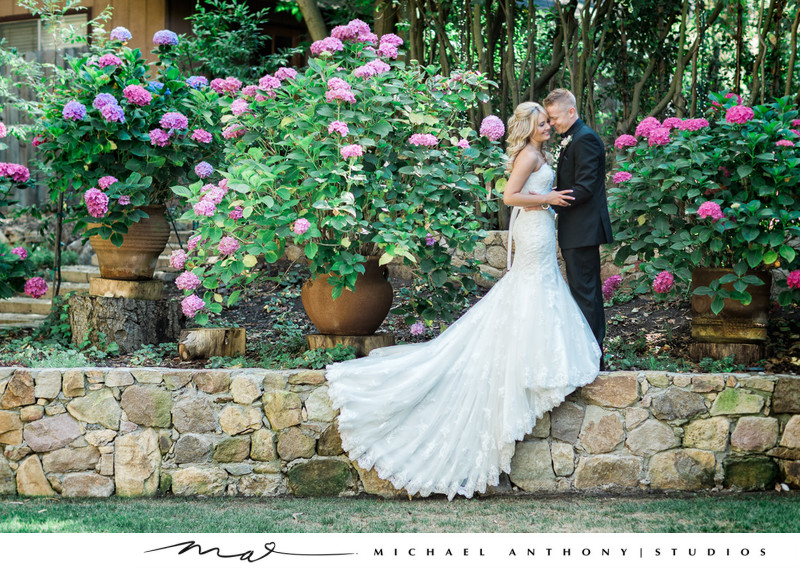 ---
California Institute of Technology (CalTech)
CalTech has two great wedding venues modern couples can choose from. This beautiful venue is located in the foothills of Azuza, and is a unique wedding venue. While a more popular location for portrait shoots, this venue can accommodate weddings as well.

The Athenaeum
The Athenaeum is a private club inside the California Institute of Technology. With its wood-paneled walls, grand-vaulted ceilings, and numerous columns and arches, every decor in the building contributes to a romantic atmosphere on your wedding day. Experience a combination of the old and the new at the Mezzanine where there are dedicated bridal and groomsmen rooms for convenient wedding preparations and portraits.
This 1930 building was designed by Gordon Kaufmann and was inspired by The Athenaeum of London, making it one of the top choices for Los Angeles wedding venues.
This private club includes Caltech alumni, faculty, staff and the staff of the Palomar Observatory, the Huntington Library and Art Gallery, and the Jet Propulsion Laboratory.
Parking: Parking is exclusively available to the members and their guests.
Dabney Hall
The Dabney Hall provides a wedding venue that captures the beauty of the classic and traditional architecture and brings it into the modern times. The building boasts of a stylish union of Mayan elements and pueblo architecture, and a private walled garden close to its east wing, the preferred wedding area in the building.
This 1929 humanities department building has now been renovated to become a wedding hall in the middle of the campus — a great wedding venue option for alumni and staff.
Capacity: The venue's maximum estimated capacity is 230 people.
Parking: Parking is available only to members and their invited guests.
---
Ebell Theatre of Los Angeles (Wilshire)
The Wilshire Ebell Theatre provides a special access called "Full First Floor Exclusive" that provides exclusive access to the remarkable Ebell Clubhouse, which includes two ballrooms, a courtyard garden, art salon and lounge, and a 1200-seat Broadway-style theater. With this venue and its two green rooms, couples can choose how they would like to celebrate their luxurious yet intimate wedding.
Opened in 1927, the theater has served as a venue of many artistic triumphs and historic events. A number of renowned performers and artists have shared their talents and celebrated their successes in this grand venue.
The Ebell Theatre of Los Angeles is the perfect venue for all your wedding needs. It has stunning architecture, with a glamorous interior design that will make any bride feel like an A-list celebrity. The theater also offers catering services and packages to help you save money on food and decorations while still having the high-quality service you deserve
Capacity:
The Lounge and Art Salon: Depending on the seating-style, this combination can hold between 170 up to 320 people.
Dining Room and Garden: This combination can accommodate between 250 up to 400 people.
Full First Floor Exclusive: This access can accommodate from 300 to 600 people
Parking: Free parking is available at the two on-site parking areas.
---
Fairmont Miramar Hotel and Bungalows in Santa Monica, CA
Let the ocean waves play along with your wedding song with Santa Monica's dream wedding venue: the Fairmont Miramar Hotel and Bungalows. Whatever your wedding inspirations are, this glamorous venue has five iconic spaces to suit your wedding style:
Luxurious weddings with a large number of guests can capture the luxury of the Starlight Ballroom; the largest venue in the hotel offers a great view of the Pacific Ocean and the hotel's signature fig tree.
Infuse a taste of tradition into your wedding by choosing the unique charm of the Wedgewood Ballroom.
Take advantage of the hotel's great Pacific Ocean views with an intimate wedding at the Sunset Terrace.
The Miramar Gardens provides a more private space among the hotel's lush greens.
Celebrate your wedding under the Moreton Bay fig tree at the Front Drive, which provides a distinctive outdoor celebration.
Over the years, this century-old property, a 1921 Victorian-era mansion, became a favorite of renowned leaders and celebrities.
Capacity: Indoor capacity ranges between 300 to 600, while outdoor venues can accommodate between 400 up to 1000 attendees.
Parking: Parking is available nearby. Valet parking is also offered.
---
Four Seasons Westlake Village, California
The Four Season Hotel at Westlake Village offers the luxury this brand is known for while welcoming the laid-back beauty of a green countryside, reminiscent of a quiet European town. With elegant rooms, relaxing amenities, and lots of natural light, you and your guests will appreciate the calm atmosphere that it contributes to your special day.
Several lush indoor and outdoor spaces are available for wedding ceremonies:
Ballroom
Terrace
Waterfall Lawn
Chinese Pagoda
The Four Seasons Westlake Village Inn, which started to welcome guests in 1968, has always been a choice lodging and venue option in the area.
Capacity: With 36 indoor and outdoor event spaces, some areas can accommodate up to 1,000 people.
Parking: Free public parking is available
---
Hummingbird Nest Ranch
Embrace the lush surroundings of the Santa Susana Mountain as it provides a great backdrop for your romantic Hummingbird Nest Ranch wedding. Couples looking for a respite from the busy city life would love to have their weddings at this tranquil sanctuary among native plants and rich pastures. This venue boasts of a relaxing landscape, offering a selection of five wedding spaces suitable for couples who prefer an outdoor ceremony and reception.
The Villa
Sitting Bull
Grand Prix
Main Barn
The Hummingbird Nest Ranch was the filming location of a number of movies and TV shows, as its dramatic sunset provides a romantic accent to the secluded venue.
Capacity: Four of the wedding sites can accommodate between 300 to 500 guests. The Lake Lawn, as the largest venue, has a capacity of up to 1,000 attendees.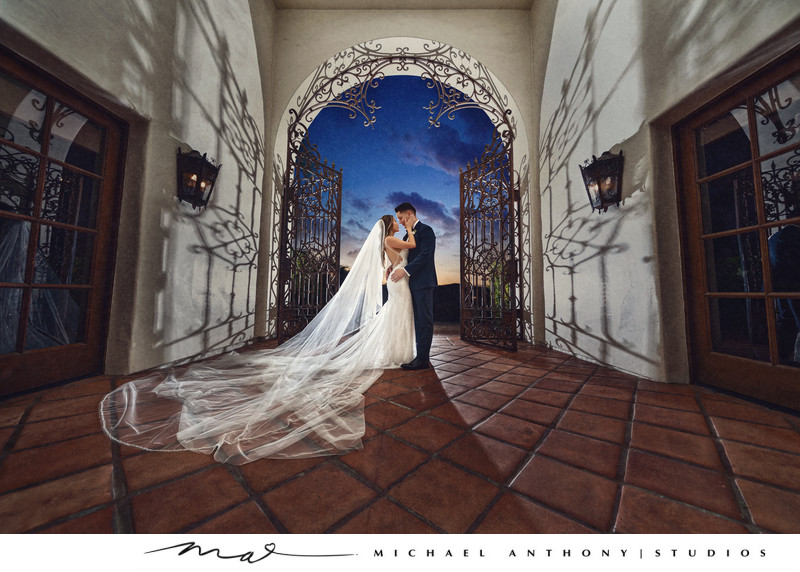 ---
Hyatt Regency Valencia
It is hard to miss The Hyatt Regency Valencia when it comes to the best wedding venues in Santa Clarita. This resort offers its lush outdoor landscape as an exquisite garden wedding venue for cocktail or lunch celebrations. With access to the top floors and their north-facing windows, couples have abundant natural lighting for their photo sessions.
The Hyatt Regency Valencia is also known for its towering height of 73 feet, making it the tallest building in Santa Clarita, sharing the top place with the Princess Cruises headquarters. Luxury rooms and suites are available for couples and their guests in this grand hotel. It is located near well-known recreational and entertainment landmarks in Santa Clarita, such as the Six Flags, Hollywood, Universal Studios, and the Aquatic Center.
Capacity: The ballrooms of The Hyatt Regency Valencia can accommodate a maximum of 375 guests.
Parking: Garage parking is offered next to the hotel lobby entrance. Surface parking is offered next to the Hotel Conference Center.
---
LA Arboretum & Botanical Gardens
One of the premiere choices for outdoor weddings is The Los Angeles Arboretum and Botanic Garden. This spacious venue provides a wide selection of seven spaces for ceremonies and four for reception. With its exquisite landscape options, it has been a filming location for many TV shows, movies, and advertisements.
Ceremony sites:
Waterfall
Rose Garden
Celebration Garden
Bauer Lawn
Event Lawn
Queen Anne Cottage Lawn
Zen Deck
Reception sites:
Celebration Garden
Bauer Lawn
Event Lawn
Ayres Hall
Since it used to be the center of the iconic Rancho Santa Anita, this location perfectly captures Native American influences, Rancho period elements, and late 19th century designs. Couples who schedule their weddings between April and October will never go wrong with a natural backdrop for their wedding.
Capacity: Maximum capacity varies depending on the site, with some able to accommodate up to 300 people.
Parking: There are two parking lots, and parking is always free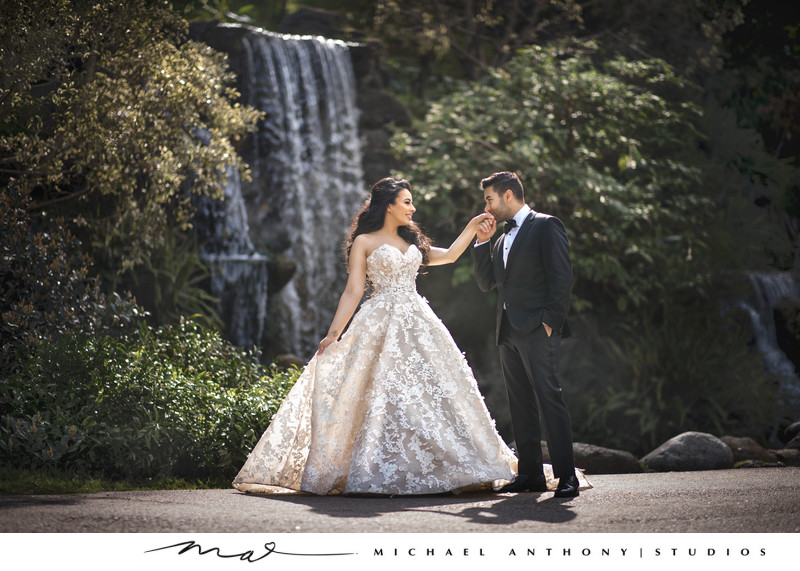 ---
Los Verdes Golf Course
The Los Verdes Golf Course provides an exclusive and enormous space leading to one of its four wedding sites. Guests will be greeted by majestic pine trees, a private driveway, and a stunning view of the vast ocean from the shores of Malibu up to Catalina Island.
Located within the charming residential colony of Rancho Palos Verdes, the Los Verdes Golf Course has been given the 2011 "Course of the Year Award" by the Los Angeles County. It is found close to Long Beach, Manhattan Beach, and Torrance. Aside from its Billy Bell-designed golf course, Los Verdes takes pride in its grand interior and exterior layout, rich landscape, and picturesque ocean views.
Capacity: Indoor capacity ranges from 150 to 370 people. Outdoor areas can accommodate up to 370 people.
Parking: Parking amenities include a spacious guest parking area and valet parking services.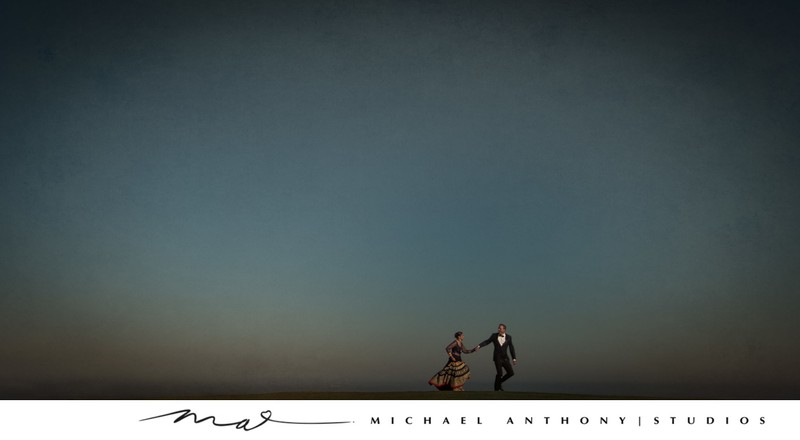 ---
The Langham Hotel in Pasadena
Located in an upscale neighborhood, the Langham Huntington in Pasadena offers an atmosphere of grandeur and style with its characteristic floral designs, spacious gardens, and classic ballrooms, which allow for memorable celebrations and pictorials. With seven site options, you can personalize several venue elements to create the wedding that you've been dreaming of.
Opened in 1914, the Langham Huntington was the venue of many famous and lavish weddings and events. Many celebrities, leaders, and members of royalty come to the Langham Huntington for its exclusive facilities, premium amenities, and top-notch service. Top publications have awarded the hotel for the distinct event experience that it provides.
Capacity: The hotel's maximum capacity is at 650 people.
Parking: Valet parking is available for a fee.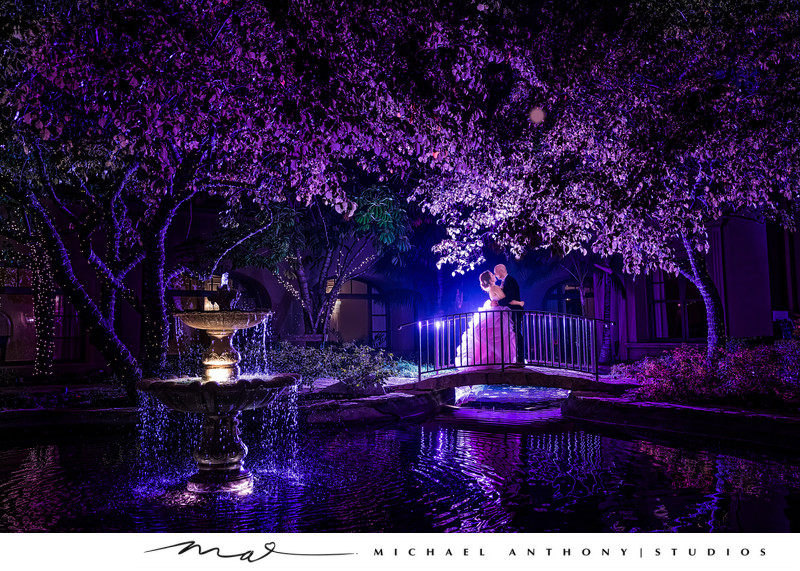 ---
Millennium Biltmore Hotel in Los Angeles
Coming from its deep history and rich culture, the Millennium Biltmore Hotel became witness to many historic events and celebrations for several generations of political, business, and entertainment figures. With five main ballrooms and six other wedding venues, the hotel has diverse options to suit lavish weddings with its posh themes and esteemed guests.
This 1923 hotel features a combination of four architectural styles (Spanish-Italian, Mediterranean Revival, Renaissance Revival, and Beaux Arts) to pay homage to Los Angeles' Castillan heritage. Its most prominent interior elements are the carved columns and fountains, murals and frescoes, and the cast bronze stairwells showcase its strong renaissance influences.
The Millennium Biltmore is a constant figure in Los Angeles' cultural landscape. It is a significant landmark located near a number of sightseeing destinations, such as the Grand Park and the Walt Disney Concert Hall.
Capacity: The smaller function room can host up to 350 people, while the Crystal Ballroom has a capacity of 700 people.
Parking: Valet parking is available at the Biltmore Hotel while pay parking is offered by the Pershing Square located across the street.
---
Mission Inn Hotel & Spa
While not technically in Los Angeles, the Mission Inn Hotel & Spa is worth mentioning here because it's such a popular wedding venue. Located in the middle of downtown Riverside, The Mission Inn boasts a stunning design from late 1800s that has never been altered. There are multiple hotels within the complex, including The Presidential Suites, which are conveniently located next door to the reception ballroom in case you feel the need for a place to crash after your big day.
The mission inn can host about 400 guests comfortably, but that's for the whole complex. If you are hosting fewer people, you can choose from a number of on-site venues that are more intimate in nature
Rates vary depending on the time of year and what you need. And there are many options available for catering in the area. If you want to see more information about Mission Inn Wedding Photos, Click Here
---
Neighborhood Church
Situated on top of the cliffs of Palos Verdes, with its breathtaking view of the Santa Monica Bay, The Neighborhood Church has been a top-choice wedding venue for the last 75 years. The Neighborhood Church is an inclusive wedding space that welcomes couples of any faith or sexual orientation. The Sanctuary offers its amazing views of the ocean, detailed ceiling murals, a bridal suite with its own stunning view, and a lush outdoor area as a venue for weddings and photoshoots.
The 1927 Haggarty mansion is located within the Haggarty Estate, which offers a terrific view of the Pacific Ocean. In 1961, families in the area raised funds to buy the Haggarty estate and establish the church community that they were searching for. This church has its own distinct murals that reflect its Mediterranean influences when it was designed by architect Armand Monaco.
Capacity: The Neighborhood Church can hold a maximum of 300 seated guests.
Parking: Free parking is available to guests.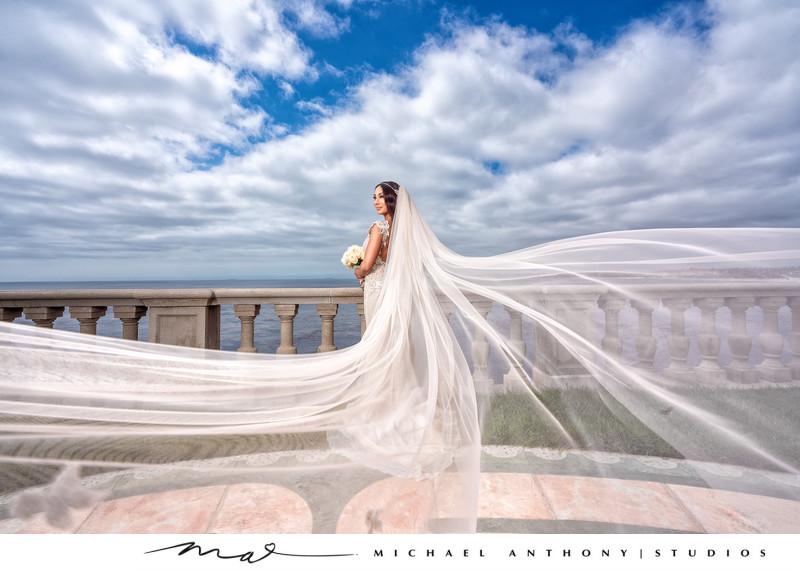 ---
Sherwood Country Club
Sherwood Country Club is a hidden gem nestled in the Santa Monica Mountains, overlooking Westlake Village and Los Angeles. This exclusive club sits on iconic brick architecture that's reminiscent of clubs found on the east coast. The club is fashionable, and since it's nestled behind gated walls, it's private nature ensures you can enjoy your big day with those closest to you.
Sherwood Country Club offers multiple wedding layouts, from the Sherwood Ballroom to the Sherwood Oaks and Sherwood Gardens. There's a layout for every style and as long as you're not planning on over 200 guests, everything is perfect for intimate weddings with style. Sherwood Country Club has a large kitchen staff and exceptional service, making it a simple choice for many couples.
Sherwood Country Club has a Unique History. Sherwood Country Club was originally built in 1959 by Sherwood H. Eveland, whose father Sherwood Sr., was the chairman of Standard Oil Company of California at the time. Sherwood Jr. wanted to create a club for business people to entertain clients and friends, but only allowed other members only if they had held an executive position or were involved.
If you are planning your wedding Sherwood Country Club is an amazing location because of the facilities, its upscale atmosphere and Sherwood's staff. Sherwood is a prestigious club with a long history of hosting exclusive events. Sherwood is located in Westlake Village CA and is about an hour from Los Angeles.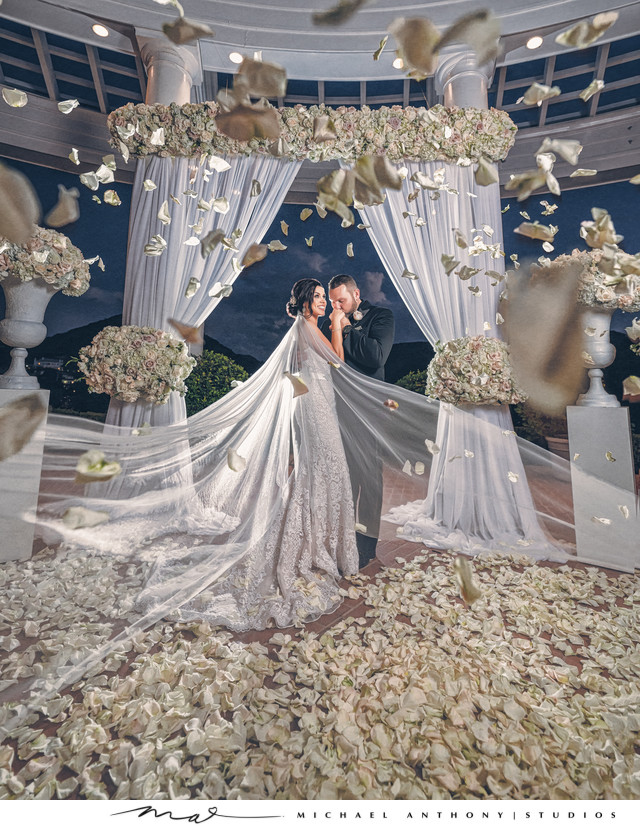 ---
The Oaks Club at Valencia
The Oaks Club at Valencia is located in Stevenson Ranch, featuring an 18-hole golf course, gourmet menus, and highly experienced staff. Featuring a ranch-style architecture blended with the elegance of a premier country club, the Oaks Club will bring a charming country-style ambiance to your wedding. Couples can choose to have their wedding on the vast golf course, the private terrace against the stunning view of the Santa Clarita Valley, or at the private clubhouse.
In its Private Member Lounge, couples and their guests can enjoy an exclusive dining experience, while The Clubhouse offers a relaxing view of the vast greens to every room. A relaxed yet luxurious atmosphere, great food, and skilled staff makes The Oaks Valencia a premier location for weddings and events of any size
Capacity: Maximum capacity is at 220 guests
Parking: Complimentary parking is available
---
Padua Hills Theatre
Located on the hills of the San Gabriel Mountains, The Padua Hills Theater became a local landmark to symbolize its culture and artistry. The Padua Hills Theatre is part of a three-building complex that is built around a central courtyard. Rows of flourishing olive trees connect the grand courtyard to an intimate gazebo, providing a great setting for wedding photos.
In the 1930s, this Spanish Colonial building was an important figure to the local artists community where the residents of Claremont started a tradition of attending dinner theater. After the theater closed in the 1980s, the dining room and the courtyard became a venue for stylish weddings and events. Couples have a variety of wedding location options within the complex, including the theatre ballroom, spacious lobby, olive garden, courtyard gazebo, and sunset terrace.
Capacity: The Padua Hills Theatre can accommodate from 100 up to 380 guests, depending on the area.
Parking: Four well-lit parking lots are available to guests for free
---
Skirball Cultural Center
Couples looking for a tranquil celebration will find the elegant ballrooms and the grand courtyards of the Skirball Cultural Center to be the perfect venue for their wedding. The center's modern architecture allows for versatile use for weddings and events of different proportions. Whether you choose one of the banquet halls, garden areas, or lush courtyards, the Skirball Cultural Center is sure to infuse your wedding with a calm and welcoming atmosphere.
As one of the leading Los Angeles wedding venues and cultural venues, Skirball has provided a diverse cultural experience since it was opened to the public in 1996. When it was established by Uri Herscher in the 1980s, it was meant to be a Jewish event space that aims to share artistry and culture
Capacity: Both indoor and outdoor venues at the Skirball Cultural Center can accommodate up to 500 people
Parking: Complimentary parking is available for guests
---
Taglyan Complex
When it comes to the grandest weddings and red carpet events, Taglyan Complex is a leader in professional planning and hosting. With the presence of in-house vendors, experienced staff, Taglyan Complex's customizable venues, couples have everything they need to achieve the wedding that they have wished for.
Each of Taglyan Complex's three venues have their own unique features that cater to the couples desires for their special day
The Foyer: With its glass details and marble floors, The Foyer provides a delicate space for an intimate wedding. It opens into a private patio that allows for additional design elements and personal space.
The Gardens: This venue provides a natural landscape of perfectly manicured bushes against Renaissance-inspired building exteriors, resulting in a wedding that romance novelists have written about.
The Grand Ballroom: With its majestic stained glass ceiling and regal decors, this is the most luxurious yet customizable wedding venue in the complex.
Any of these three locations can provide a stunning setting for any wedding ceremony or reception — or both, of course!
Capacity: Guests for Friday and Sunday weddings should be a minimum of 150 persons. Saturday weddings have a minimum of 250 guests.
Parking: Paid public and valet parking is available
---
Terranea Resort
Invite the sound of the waves to play as you walk down the aisle at the Terranea Resort. This private hotel offers access to a public cliff and the beach on Palos Verdes Peninsula, providing couples and photographers limitless options for breathtaking backdrops for their wedding photos. Even with the venue's exclusivity, travel from Los Angeles takes only 30 minutes.
Featuring a Mediterranean-inspired architecture that blends well with the stunning views of the ocean, The Terranea Resort offers a host of recreation options that couples and guests can enjoy. Imagine getting a massage at an oceanfront spa, taking a dip in one of its three stylish pools, or simply enjoying your sumptuous dinner in one of its eight restaurants and bars.
Each of Taglyan Complex's three venues have their own unique features that cater to the couples desires for their special day.
Each of Taglyan Complex's three venues have their own unique features that cater to the couples desires for their special day.
The Foyer: With its glass details and marble floors, The Foyer provides a delicate space for an intimate wedding. It opens into a private patio that allows for additional design elements and personal space.
The Gardens: This venue provides a natural landscape of perfectly manicured bushes against Renaissance-inspired building exteriors, resulting in a wedding that romance novelists have written about.
The Grand Ballroom: With its majestic stained glass ceiling and regal decors, this is the most luxurious yet customizable wedding venue in the complex.
Any of these three locations can provide a stunning setting for any wedding ceremony or reception — or both, of course!
Capacity: Guests for Friday and Sunday weddings should be a minimum of 150 persons. Saturday weddings have a minimum of 250 guests.
Parking: Paid public and valet parking is available.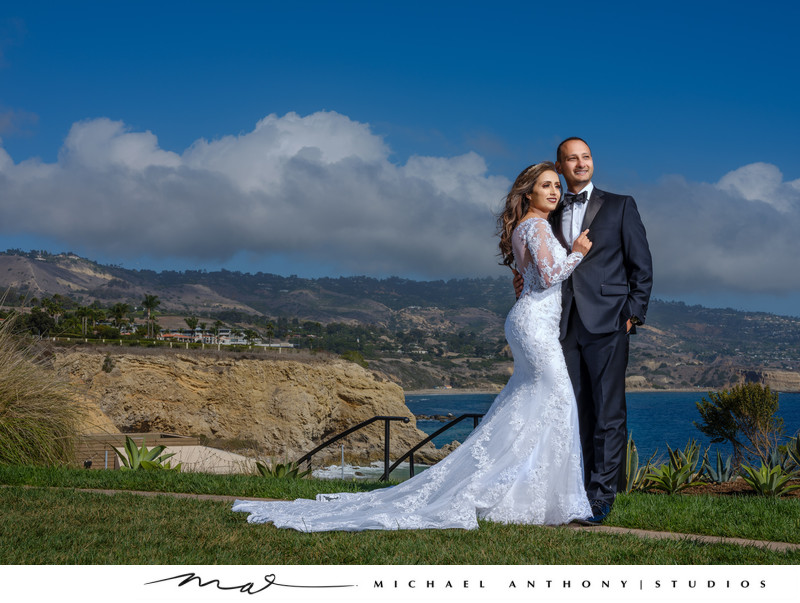 ---
The Majestic Downtown Los Angeles
The Majestic Downtown provides limitless options for elegant weddings of different themes and sizes. Its high Italian ceilings, sculpted marble columns, polished marble floors, and arched windows all infuse a dose of history and culture to any celebration.
The Majestic Downtown speaks only of grandeur and artistry that dates back to its creation in 1924 when it was built during the Beaux Arts movement. This historical edifice — which was once the national headquarters of the Bank of America — has become a premier filming location and events venue.
Couples can choose one of The Majestic Downtown's four sites in its 25,000 square foot area.
The historically preserved South Hall can accommodate a maximum of 600 guests on its multiple levels, while the North Hall — which offers the same features as the South Hall — can accommodate up to 250 people.
The Grand Hall combines the North Hall and the South Hall to host up to 1,200 guests. The fourth site, the Catwalk, has modern-industrial influences and provides a non-traditional wedding venue.
Capacity: Indoor capacity for ceremonies has a maximum of 350 attendees. Indoor reception spaces have a maximum capacity of 550 attendees
Parking: Both paid public and valet parking are available.
---
Trump National Golf Course Palos Verdes
Trump National Golf Course sits atop the beautiful cliffs of Palos Verdes. The venue boasts an opulent display of beachfront property, luxury amenities, and a stunning ceremony site. Weddings at Trump National Golf Course can be done at multiple different ceremony sites. Larger weddings will take place in the Grand Ballroom, while smaller receptions can take place upstairs in the Trump Room, with walls adorned in golden decor fitting for any luxury event.
Couples can choose from a variety of catering options available at the event venue.
With dramatic views of the Pacific Ocean, Vista Terrace offers distinguished intimacy for wedding ceremonies. The space can accommodate up to 120 guests on a spectacular outdoor terrace overlooking the ocean, ideal for garden weddings and beachside receptions.
For larger weddings, couples can host up to 300 guests indoors in the Grand Ballroom with an adjacent pre-function space overlooking the ocean available for cocktail hour. This sophisticated ballroom features a grand fireplace and floor-to-ceiling windows showcasing gorgeous views of the coastline and Catalina Island beyond. An additional terrace is also available for outdoor events.
Boasting sweeping panoramic views of the Pacific Ocean, the Loggia Balcony is ideal for intimate weddings and can accommodate up to 80 guests. The space also allows for indoor ceremonies and receptions if preferred.
Trump National's Terrace Ballroom is a luxurious outdoor ballroom with the finest ocean views. This elegant space offers an expansive 6,200 square feet of indoor/outdoor versatility. With 79-foot floor-to-ceiling French glass doors that open to breathtaking views of the scenic Pacific coastline.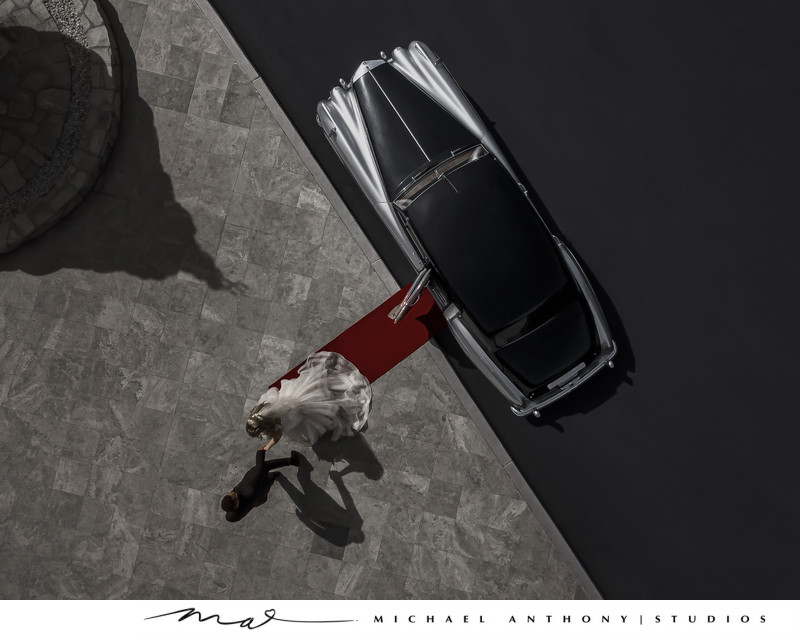 ---
Vibiana Cathedral (Los Angeles)
The Vibiana Cathedral is one of the remaining 19th century structures in Downtown Los Angeles, making it an iconic venue for weddings and events. The serene space has the beauty of an 1876 checkered floor, which it combines with refreshing interior renovations to create an atmosphere that is solemn and blissful.
From vibrant garden space to remarkable structure, the Vibiana Cathedral offers many great spaces for wedding photos. As if that is not enough, it is located in the historic area of Los Angeles, and other historical landmarks in the area are just minutes away.
Capacity: The Vibiana Cathedral can accommodate 789 attendees indoors and up to 850 people with the inclusion of outdoor spaces. Theatre-style seating accommodates up to 400 people indoors and 550 people outdoors.
Parking: Paid public and valet parking are available.
---
Vertigo Event Venue
The Vertigo Event Venue is one of the leading choices for event locations close to Los Angeles. This modern wedding location provides a variety of amenities for couples who are looking for an upscale venue with the latest technologies. Each of its four unique spaces has its own special charm that draws the attention of couples and guests of different backgrounds and interests.
The Lower Lobby, with its monochromatic tones of crystal white, piano black, and mirror grey, is perfect for both modern and avant-garde weddings.
Couples looking for a spacious venue and modern equipment will find everything that they need at the White Ballroom. If two stages, six LED TVs, and a white dance floor are not enough, couples can check out its dance floor's built-in lighting and its private bar area.
The Black Banquet has all the boldness and character to draw the attention of adventurous couples and guests with its dark palette, black granite bar, and black Murano glass chandeliers.
Finally, located on Vertigo's second floor is the Top Bar, which combines modern and traditional decor through its reclaimed wood, Edison fixtures, Swarovski chandelier, and black quartz.
Capacity: Depending on the space, venues at the Vertigo can host between 100 and 320 guests.
Parking: Paid public and valet parking are available.
Capacity: The Vibiana Cathedral can accommodate 789 attendees indoors and up to 850 people with the inclusion of outdoor spaces. Theatre-style seating accommodates up to 400 people indoors and 550 people outdoors.
Parking: Paid public and valet parking are available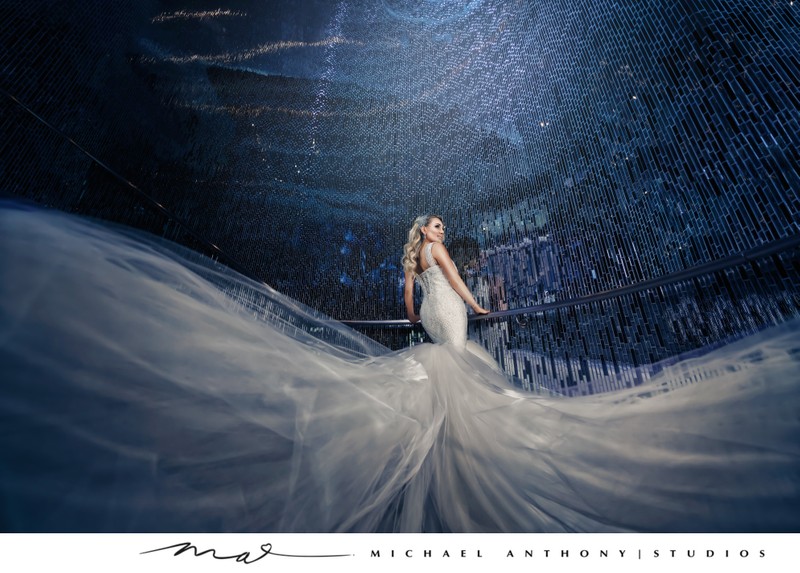 ---
Wayfarers Chapel
Capture the beauty of nature while having an indoor wedding ceremony through the all-glass exterior of the Wayfarers Chapel. With an interior made from Palos Verdes stone, an exterior of clear glass that fills the space with natural light, a landscape of towering redwood trees, and the stunning views of the Pacific Ocean in the horizon all together, you can only wonder if this perfect setting is part of a dream.
Indeed it was a dream of Elizabeth Schellenberg to establish the Wayfarers Chapel. When it was completed in 1951, it provided a space for wayfarers to rest. Because of its unique architectural characteristics and breathtaking views of the ocean, it was listed on Travel Awaits as one of the seven incredible churches to visit. Not only has it become a popular wedding location, it has also gained recognition in the film industry as a common filming spot.
Capacity: The Wayfarers Chapel can accommodate a maximum of 100 guests.
Parking: The chapel has a spacious parking lot
---
Los Angeles Beach Wedding Venues
Los Angeles is known for having a premium pick of beaches nearby, and they haven't gone unnoticed by our brides. Getting married in the sand or on a deck overlooking the waves is many brides' idea of paradise, and your guests would agree with you. A beach wedding is the perfect way to bring the laid-back vacation feel to your special day. All while making it feel like a getaway for your friends and family.
For photographers, the crashing waves behind our bride and groom are a dream to photograph, and we can pull our newlyweds onto the beach for some incredible photos with their bridal party and family once they've said "I do". Bring the beach inside for a nautical themed reception that your guests are sure to love, and your party is going to be a hit. We like to bring our bride and groom outside for some special sunset photos as the sun dips over the horizon on the water. These usually end up being our couple's favorite photos of the night.
Los Angeles Country Club Wedding Venues
With so many beautiful golf courses in Southern California, our brides can't go wrong with a wedding on the green. Golf courses are scenic with luscious rolling hills for acres, and beautiful paseos to shoot along. They are also practical, since so many golf courses are all-inclusive when it comes to catering and rentals. With options for an inside or outside reception, our brides have choices to suit their taste, as well as an easy back-up plan for inclement weather.
Most golf courses will even provide golf carts to the bridal party to make those portraits during cocktail hour easy on our our bride and photographer, and allow us to shoot all over the course!
Los Angeles Hotel Wedding Venues
Getting married at a hotel is the perfect way to find an all-inclusive venue where our couples can stay all day from getting ready in the morning to the time they kick off their shoes at the end of the night. Having one location makes things easy for your wedding guests since they won't have to travel, and it will cut down on the planning work for you since the venue will take care of rentals and linens. Most hotels will have great indoor and outdoor options to host the ceremony, as well as options for a fully-stocked ballroom for the reception.
When we shoot at hotels, we love taking advantage of the amazing natural light in the morning in our bride's room. With so much space for you and your bridal party, a hotel room is the perfect bridal suite to photograph your details and getting ready photos. Later in the day, we can take advantage of the high ceilings in the hotel lobby, and the scenery around the building to create some amazing create photos for our bride and groom.
Your friends and family will be able to drink and enjoy cocktail hour longer since they won't need to drive, and can easily funnel into the banquet room as the party starts!
Los Angeles Banquet Hall Wedding Venues
For our brides that are sealing their vows at their favorite church, a banquet hall is an excellent choice to continue the party with their guests. Banquet halls offer a clean, modern look and feel for your reception, and create an ideal space for photography where your photographers can get creative with lighting on the dance floor. With so many banquets halls close to downtown LA, the centralized nature of these venues is easy for your guests to get to no matter where they're traveling from. This allows so many choices for churches in the vicinity.
Banquet halls offer a full service wait staff, and boast a wide selection of tables, chairs and linens, checking one item off your planning to-do list. With no noise restrictions, your guests will be able to party the night away until you're ready to call it a night.
Once you decide which one of these venues suits your needs, it's time to start location scouting! There's so many venues to choose from, so you have your work cut out for you. We've rounded up some of our favorite locations we've photographed over the years to give you a head start.
Finding Your Los Angeles Wedding Photographer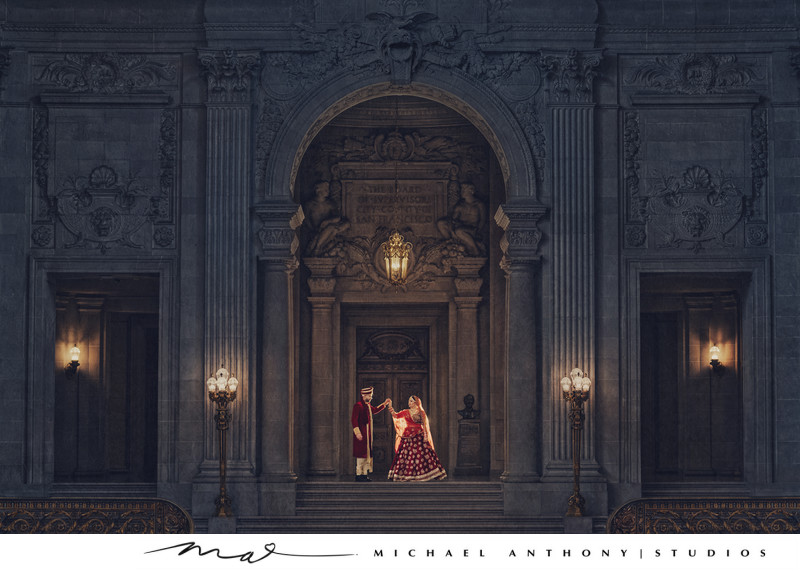 It's no secret that there are a lot of photographers for you to choose from. The question is, how will you find someone who can capture your day the way that you envision. Let's be honest, not all wedding photography studios are created equal. We are one of the only Wedding Photography studios in Los Angeles that offer both affordable, and luxury wedding photography options, and there are a few important reasons why we think we could be a good fit for you.
1. We Know Los Angeles Weddings
Our studio was founded in Los Angeles, and has photographed weddings all over the world. We understand the flow of a day, and our photography team does as well. Other multi-photographer wedding studios will tell you that they only accept 2% of their applicants. However, the truth is that we are the only wedding photography studio that guarantees a style and quality to our clients. How do we do that? We don't just hire photographers who take pretty pictures. Each Team 23 photographer has to not only pass the application process, but also graduate from our wedding photography academy, which means that we only take the best of the best. And being a good photographer is not enough, they have to give you, our clients the best possible experience that they will remember on their wedding day. Need more proof? Check out what our clients have said about us on Weddingwire and The Knot.
2. We have experience at all of the best Los Angeles Wedding Venues
Los Angeles is big, and has hundreds of wedding venues. It takes years to shoot at hundreds of different wedding venues. We have photographed thousands of weddings since 2012 and we know the best places to shoot! For inspiration, take a look at our Pinterest account, which we add images to every day!.
3. We give 100% on every wedding
We have a high standard for wedding photography. Our team as seen (almost) everything that happens at weddings. And in order to capture the best moments, you have to be able to put in the work. Our artists are with you before, during and after the wedding. The Team 23 coordination team makes sure that you get photos at the best possible time of day. Our team will work with you to make sure that you are happy, because after all we are not just taking photos of you. This is the most important day of your life. We don't take it for granted, and we give it our all on every assignment.
Los Angeles Wedding Photographer Michael Anthony Photography , 26007 Huntington Lane #10, Santa Clarita, CA 91355 | 310-750-0886 - Privacy Policy - Terms of Use