Serendipity Gardens Weddings
Scroll Down for More Photos
---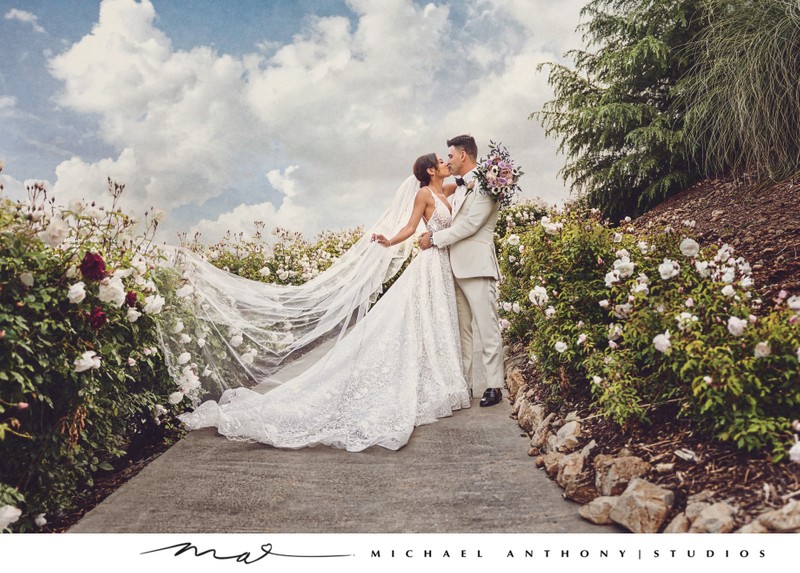 Serendipity Gardens is the premiere wedding location in Oak Glen, California. It's tailored specifically for weddings and can be found next to a mountain canyon, overlooking a beautiful creek. It's gorgeous. You truly have to see it to believe it.
Serendipity Gardens offers a fairytale-esque private oasis. Dreamlike waterfalls, serene ponds, and towering forest-area is accompanied by thousands of white roses. This is genuinely a place you only find in storybooks. Serendipity Gardens offers a variety of indoor and outdoor options, allowing for a tailormade, personalized event. No matter what you choose, you can be sure your big day is truly breathtaking.
Book your wedding or schedule a tour by contacting Serendipity Garden today!
History
Founded by Tamara Kerbs, Serendipity Garden is a newer wedding location located in Oak Glen, California. The venue is designed specifically for weddings, and offers a dreamlike, fairytail experience unlike any other. The venue sits on 7 acres of private land, surrounded by beautiful mountains and forest. Serendipity's goal is to provide couples with a stress-free, all-inclusive wedding where everything is taken care of for you.
Serendipity has hosted over 900 weddings and won the Venue of the Year award from Southern California Bride in 2015, beating even Disneyland, amongst more than 100 other venues. Serendipity Garden was the passion project of a young teacher that evolved into one of the premiere wedding spots in the U.S.
Parking
Serendipity Garden offers a large parking lot to ensure everyone makes it to your big day.
Capacity
Serendipity Garden has a maximum guest count of 200 guests.
Catering & Included Items
Serendipity Garden is a full-service venue tailored specifically for weddings. The venue's staff can work with you to make sure your wedding is exactly what you envision it to be. Serendipity provides a variety of all-inclusive wedding packages and extras that include:
Catering and bar services
Bridal Suite
Professional DJ
Horse drawn carriage
Personal Florals
Wedding Cake
And various other extra services
Serendipity Garden truly offers an experience unlike any other. From the horse drawn carriage, to the gorgeous scenery, and delicious catering menu, you can be sure your wedding can be something straight out of a fairytale.
Serendipity Garden offers a full breakdown of its wedding package here.
Pricing
According to the up to date 2020 & 2021 pricing charts, pricing begins at $19,500 + 12% tax/admin fee for 125 guests. This covers a 5 hour long event as well as an all-inclusive wedding package.
Extra services are also available for an additional fee.
Get a direct quote by contacting Serendipity Garden today!
Location and Contact Info
Serendipity Garden Weddings
12865 Oak Glen Road,
Oak Glen, CA, 92399
(844) 749-5683
---
---
Los Angeles Wedding Photographer Michael Anthony Photography , 26007 Huntington Lane #10, Santa Clarita, CA 91355 | 310-750-0886 - Privacy Policy - Terms of Use